Grace Lin presents A Big Mooncake for Little Star
A gorgeous picture book by Newbery Honoree and bestselling author-illustrator Grace Lin that tells a whimsical origin story of the phases of the moon.
Pat, pat, pat...
Little Star's soft feet tiptoed to the Big Mooncake.
Little Star loves the delicious Mooncake that she bakes with her mama. But she's not supposed to eat any yet! What happens when she can't resist a nibble?
Praise for A Big Mooncake for Little Star
* "Luminous....Lin's storytelling is both clever and radiant. A warm and glowing modern myth."
-- Kirkus, starred review
*"The relationship between Little Star and her mother offers a message of empowerment and reassurance. Lin's loving homage to the Mid-Autumn Moon Festival is sure to become a bedtime favorite."-- School Library Journal, starred review
We ask that you purchase the books you want to be signed at our events from Malaprop's. When you do this you are not only supporting the work it takes to run an events program, you are also telling the publishers that they should keep sending authors here.
Can't make it to the store for the event? Call us or order the book on our website in advance, and we'll get it signed for you. Make sure you write your preferences in the comments if you purchase online.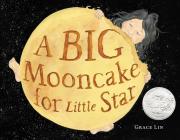 $18.99
ISBN: 9780316404488
Availability: Not Currently On Our Shelves. Usually Ships in 1-5 Days
Published: Little, Brown Books for Young Readers - August 28th, 2018
---

$19.99
ISBN: 9781626728790
Availability: Not Currently On Our Shelves. Usually Ships in 1-5 Days
Published: Roaring Brook Press - September 25th, 2018
---

$9.99
ISBN: 9780316125949
Availability: Not Currently On Our Shelves. Usually Ships in 1-5 Days
Published: Little, Brown Books for Young Readers - September 5th, 2017
---